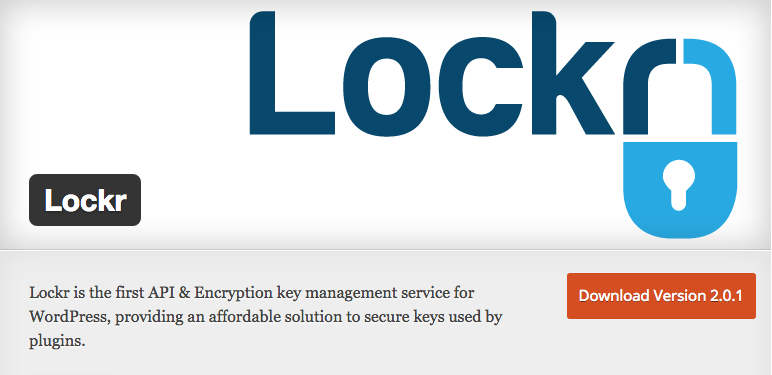 INTRODUCING LOCKR FOR WORDPRESS
We're excited to announce Lockr's availability in the WordPress plugin directory, making it the first ever API and Encryption key management service for WordPress. The ease of use and integration of the WordPress platform has made protecting your personal website even easier. Lockr's plugin is easy to configure and setup and will effectively store keys offsite limiting your site's vulnerability.
Plugins are increasingly leveraging 3rd party APIs and, in order to securely access these APIs, a secret password is necessary. Until now, these highly sensitive passwords were stored in your central database. This presents a major security threat and subsequently a need to secure your sensitive data by removing these API keys from your database, encrypting them, and storing safely in an offsite key vault. In the case, then, that your site is compromised, this effectively limits the damage that could be done.
With Lockr there is no need to worry. Our service can secure any API key, secret key, and other types of credentials. When the plugin is enabled in WordPress, keys entered are encrypted, sent over to the Lockr system, and removed from the code repository and database. This prevents your key from being used outside of your website. Lockr also manages keys on a "per environment" basis which helps eliminate the potential of keys being shared from production to development environments.
The offsite key management solution protects against critical vulnerabilities, delivers best-practice security to help sites comply with many industry regulations, and provides a Defense in Depth approach to securing your data. It's our continued aspiration to makes key management easy. Simply install the plugin for WordPress, configure your account and begin securely storing your keys. Lockr provides patches for the major plugins used by hundreds of thousands of sites and with WP-CLI a single command will make sure your plugins use Lockr. And best of all, even though it delivers enterprise-grade key management, your first key and 1500 key requests are free!
Head over to the WordPress plugin directory today to give it a try: https://wordpress.org/plugins/lockr/